DOWNLOAD
myExplorer is an advanced network (LAN) file manager, which allows you to access network shared folders on any computer from your smartphone. The program has the following major features: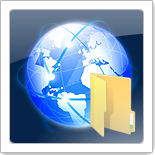 Wi-Fi file transfer from and to any computer. You can open images, movies, HTML files and text files and you can copy or move files of any kind between the phone and your PC. There is no need to use a cable, or to install any software on the computer and it may be running Windows (XP, Vista or Windows 7), Mac OS X or Linux. There is full authentication support (NTLM).

Password-protected folder to keep private information. The files in the password protected folder are accessible only through myExplorer and only if you know the correct password. The contents of your private folder are not visible to any other program on the phone.

Advanced text viewer. Allows viewing of any text file with various text encoding (Latin-1, Cyrillic, UTF-8 and UTF-16), custom font size, custom colors and advanced smart reflow technology that allows comfortable reading of large text files (including e-books) on your phone.

View and extract files from Zip, Rar, 7z, Tar, Gzip and Bzip2 archives.