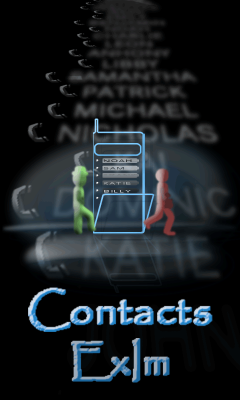 Contacts Exim is application for EXPORT and IMPORT contacts in your addressbook.You can export all contacts as backup of addressbook or selected contacts only.

This application allows to export to three destinations:
- phone storage
- SD card
- email

Exported fields: firstname, lastname, display, nick, birthday, jobtitle, company, note, anniversary, ringtone, phones, emails, urls, addresses, IM addresses and groups.

Exported file has .txt extension and columns with semicolon separated.
This means that you can open your exported addressbook with any popular spreadsheet application or simple txt editor.

Email destination option allows you to backup your contacts without PC connection! It's very easy.
Download here Download
______________________________________________